Quilt Inn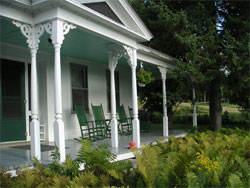 Vermont Quilt Inn

Every fall, a small group of quilters gathers in the Northeast Kingdom of Vermont to study the art of quiltmaking with Judy B. Dales, one of today's best known quilt artists. Quilt Inn is held at Highland Lodge, a charming country inn in Greensboro, Vermont that was Judy's childhood home. The Lodge is now run by her cousin, David Smith, and his wife, Willie and is the perfect setting for this special quilting opportunity. It overlooks a crystal clear lake and offers wonderful views of the Vermont landscape. The dining experience is exceptional and guests can choose a room in the Lodge or one of the cottages.
| | |
| --- | --- |
| | |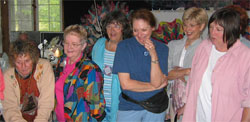 Judy is a teacher of many years experience and is best known for her distinctive color style, innovative designs and unique curved-seam piecing technique. Judy's relaxed attitude and wonderful sense of humor are combined with a serious commitment to the art of quiltmaking that provides a unique opportunity for students to challenge themselves in a nurturing classroom environment. Judy is no longer traveling to teach, so Quilt Inn is the only opportunity to study with this popular teacher.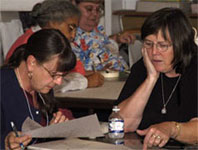 Quilt Inn class size is limited so that each student receives individualized instruction. A new class is presented each year. Previous topics have included five-pointed modular star designs, Kaleidomosaic designs with curved seams, landscapes, free-form curved designs and transparent overlay collage quilts. All classes include a design segment, pattern making, color selection and piecing techniques, covering all the skills students need to create their own original work.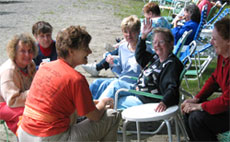 Exploring the beauty of Vermont's Northeast Kingdom and the special charms of Greensboro are one of the added attractions of Quilt Inn. We picnic on the beach beside beautiful Caspian Lake, and one afternoon is set aside as "sneak-away" time when students are free to visit local shops, craft stores or to just rest and relax. A local shop owner brings a selection of fabrics available for purchase in case students discover they didn't bring enough. In addition, students may ship supplies and/or sewing machines to the Lodge in advance.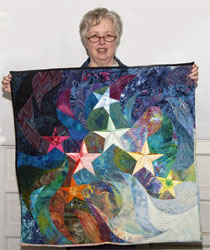 Students are encouraged to bring non-quilting companions who will discover boating, swimming, hiking, antiquing, golf and tennis in the area. Companions join us for meals and are welcome to attend evening activities (including an informal show and tell, lectures by Judy and a presentation by a Vermont quilter. If, however, you feel the need to "get away", don't hesitate to come to Quilt Inn by yourself. Quilters from around the world quickly become friends in the relaxed, intimate atmosphere. We can pair you with a roommate if you wish to share a room.
Quilt Inn 2011 will run from Friday, September 9 through Wednesday, September 14, 2009. The class will focus on designing and sewing a curvilinear design, learning how to draw graceful curves and shapes, create a pattern and sew curved seams. Returning students will work independently on projects they have discussed with Judy. New students will work on a series of design exercises that will produce a project suitable for execution in class. Because the group is small, there is ample time for individual attention and consultation with Judy.
We begin with registration from 1-5 on the first day and an informational meeting at 5pm in the studio. Students begin their journey home after breakfast of the last day. Cost of Quilt Inn, including the class, room, meals, tax and gratuity is $905.50 for a single room, $878 for double occupancy. To make a reservation, call Highland Lodge at 802-533-2647, email them at highland.lodge@verizon.net, or visit their website at www.highlandlodge.com. If you have questions, feel free to contact me. I hope you will consider joining us at Quilt Inn this year. We always have a lot of fun!