Friday, July 11th, 2008
One of my favorite quotes is from Gene Fowler:
"Writing is easy: all you do is sit staring at a blank sheet of paper until the drops of blood form on your forehead"
So here I am staring at a blank blog page, waiting for the drops of blood to form!!
Actually, I am thrilled to be launching a new website and starting a blog. I hope you have visited my quilt galleries and that you will come back often to see what's new. I find working on the computer a bit addictive and suspect that I, like many of my friends, will have fun with this blog.
When I lived in Houston I met sporatically with a small group of quilters. We had a group exhibit at the Primedia Gallery in Golden, CO and we made a group quilt to accompany the exhibit. The name of our group was GOWIG which stands for "Get on with it, Girl" and the GOWIG quilt was a composite of our fabric self-portraits. Can you guess which one is me????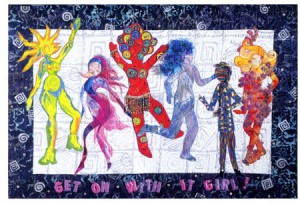 I could be the one of the right, but my hair isn't curly enough. I'm actually the bodacious babe second from the left–sexy, thin, and ever so feminine!! Those of you who know me will chuckle. Those of you who have never met me, just keep this image in your mind, because it is certainly who I would LIKE to be. Grin.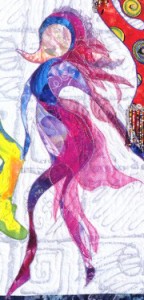 Now that the introductions are out of the way, I do hope you will visit here often. I look forward to your comments.