I've been doing some stitching on a piece that I started several years ago. I originally pieced together a bunch of hexagonal shapes, then embellished them with rather bright, slightly wild floral images that I cut from chiffon fabric. Then began a long incubation period!! I found it a few weeks ago and have been working on it sporadically when I need a break from my current piecing project.
Luckily I had already adhered the chiffon to the background with invisible thread (a most irksome task) so when I rediscovered the piece, I realized I could just begin "quilting". However as you can see in the photo, the stitching is more than just quilting. It's more like drawing with the machine. My goal is to add detail and depth–it's similar to the process of inking in a sketch.
I'm using a slightly variegated thread which is mostly black and purple, with just a touch of burgundy. Variegated thread is perfect for this technique because the color changes add interest, but I always use thread that is darker than the fabric I'm working with so that the line of stitching looks like an inked line.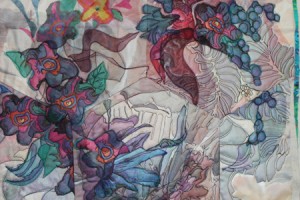 I outline stitch motifs in the background fabric also. This has the effect of drawing the background upwards and integrating it with the floral motifs.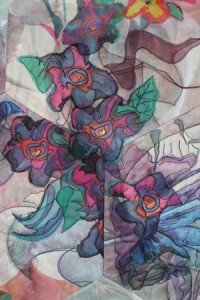 You can see the piecing lines in this image. Hopefully when I am finished stitching, those seams will not be so noticeable.
This piece is kind of wild and I don't know quite how it's going to end up. But I'm having fun doing the stitching. It truly is like drawing with the sewing machine!!