Quilt Inn 2009 (held at Highland Lodge here in Greensboro, Vermont) is over for this year, and a good time was had by all. The weather was fine, the food was great, and we got a lot accomplished in between meals!! There were nine returning students and one newbie this year. That may sound like an unfair advantage, but the newbie definitely held her own!! In fact, Sara was a good influence. Because she is an MD, we declared medical talk off limits. As you can imagine, this cut down on the level of chatter dramatically (after all, with the average age being somewhere around 73, our health, or the lack thereof, is an endlessly fascinating subject)! The benefit of the relative quiet was that everyone in the class was more productive than they might otherwise have been!! Grin! Sara was also a diligent student and set a good example for the rest of us. Here she is, experiencing machine quilting for the very first time.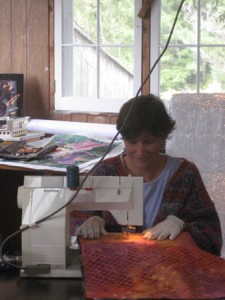 Our "studio" was extra pleasant this year because the sun shone almost every day, making it bright and cheerful. Here is Elsie, the super dog, guarding our fabric while we are away eating lunch.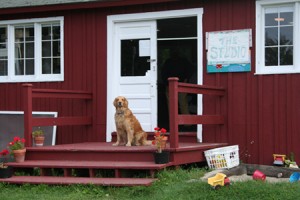 Most of the students came to class with an idea for the project they wanted to tackle in class, but every one participated in the design exercises the first day. The projects that emerged on the second day were very diverse and exciting, but were all kept to a manageable size, with one notable exception. Below is a photo of Jane with her master pattern. She came to class with the design already drafted and had only to paste it to the poster board to create her templates. It took all four of us to accomplish this!!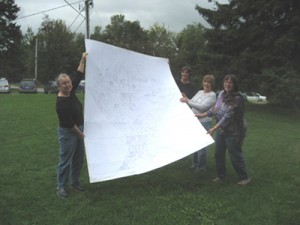 This second photo shows Jane pondering how to begin cutting the hunk of templates she has isolated from the rest of the pattern. Jane's project was inspired by a photo she had taken in Cambodia. Although this will be a massive undertaking, I have no doubt that Jane will finish it. Last year at Quilt Inn she also worked on an ambitious design. Not only did she finish it, she made a second one from the same pattern!!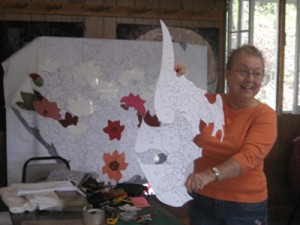 Karen (below) cuts those pesky curves with her trusty rotary cutter.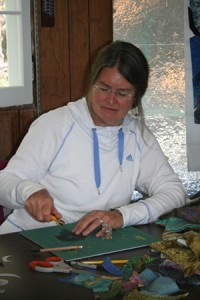 Carol and Kristin fine-tune their drawings before preparing the master pattern.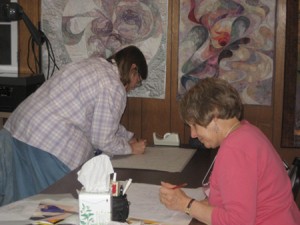 Trudy shows Robin a work-in-progress.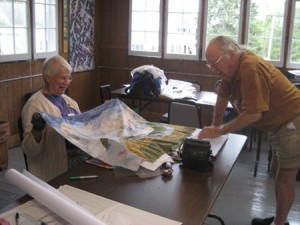 Juanita concentrates on removing wrinkles from her fabric.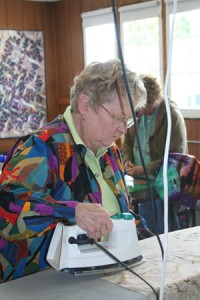 One of the best things about taking a class is that you can share ideas with the other students. Here Jane explains to Judy and a few of the other students exactly how she intends to deal with her design.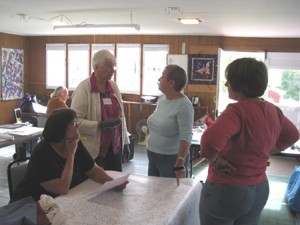 Of course, fun is also a big part of class. Robin and Sara  may look as if they are sniffing glue, but they are actually laughing at themselves as they try to glue the tracing paper and poster board together for a master pattern. Because it was starting to rain, they found the children's play house the perfect place for this task!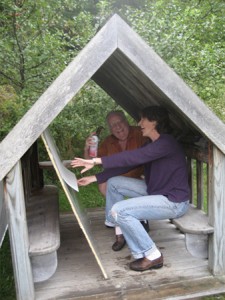 One afternoon we took a field trip down the road to my house where we did a little fabric dyeing. Here you see the results. It looks as though Louise is having trouble remembering which piece is hers!!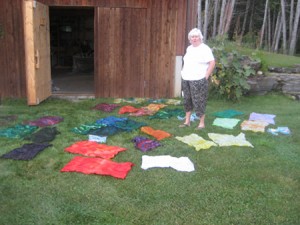 We found ourselves missing Sherry, a special friend who had attended Quilt Inn for ten years prior to this year, so we decided to make a postcard for her. Everyone contributed a piece from their project and I put it together in a collage manner and quilted it. At first it seemed that the individual elements were too diverse to play well with each other, but eventually it came together. I think it looks very folk arty. Sherry was very please with her postcard, which actually has her address, messages and a fabric stamp on the other side.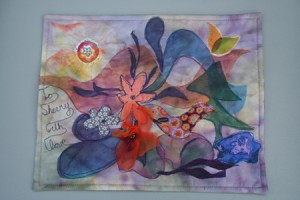 All in all, it was a very productive session. Here are Robin and Arlene hard at work. Note the concentration exhibited by both!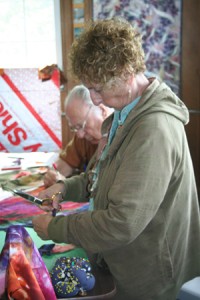 It seemed the theme this year was determination. Everyone  was very focused and eager to make a lot of progress. Plans for  next year are still up in the air, but I will post information here as  soon as it is available.